September 1st, 2017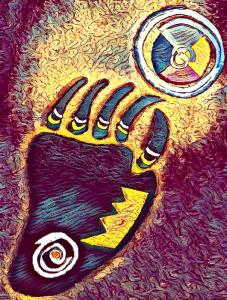 The bear is a great symbolic meaning to us Native Americans. This extraordinary animal represents strong medicine to my people. Wisdom, strength, bravery, and healing are some medicine that the bear represents.

Known in my language, the Algonquin language the bear is Makwa. As a Chippewa, I am of one of the largest surviving Native American tribes in the United States. Incorporated into our way of life is a set of fundaments and beliefs that encourages a deep network with the earth, nature, and a spiritual realm. Throughout the generations, animals have provided and continue to lessons for us. Through storytelling and art, we pass on the lessons to our children and grandchildren.

The bear visits me any many ways. Dreams hold an immense significance in a Chippewa's life. The bear has come to me so many times in my life that I have lost count. Chippewa belief is if the animal visits you in your dream more than four times he is then considered to be your animal spirit guide. I have also had the bears come visit me in real life. I often visit the Sequoia National Forest and Michigan. Almost each time I do I am blessed by this wonderful animal. When he visits me my spirit seems replenished, humbled, and courageous.

I respect the bear and honor him in many ways. I believe makwa brings me healing in my mind, body, and spirit. A form of medicine the Creator has blessed me with is painting and creating. When I paint the bear or anything to do with the bear it is very healing for me.

April 1st, 2012
As spring comes through into Michigan it supplies ample choices of earths beauty to capture. Capturing the true essence of this worlds fascinating colors is always a blessing. God shows me the colors he paints and supplies me with the opportunity to seize it as a fine artist. Taking full advantage of this I will be venturing out often and producing many pieces of Fine Photography and Fine Art to show of in this blog. Yesterdays adventure lead to some of these colorful pieces:




It is not always about catching the colors of the day but also the elegance and boldness of the evening.


December 17th, 2011
When I begin an abstract I do not have a plan other than following the basic rules listed below. I am just living in the moment. Seeking to express the feelings within my soul through a variety of colors and shapes.

I enjoy displaying movement in my abstract pieces. Why is movement so important in a pieces? Movement represents life within the painting and defines the core intelligence of the artist.

Not only is movement important in an abstract but texture gives the viewer a different aspect on the piece. When a viewer is able to look at the piece from many different angles and see a different perspective on it from each angle this is a manifestation of constitution. A few key elements to movement in a painting are the following:

-You don't want any type of a line be it horizontal,vertical, or diagonal that takes the viewers eye out of the picture plane or out of the painting. No line should take you out of the painting.

-Never have any triangular shapes in the corners when painting movement.

-Be certain that each segment is not the same size as the other.

-How and where the artists places the elements and what tools and techniques he uses to move the eye from one area to the other will determine how we prioritize what the viewer looks at. Large objects placed far apart will cause the eye to bounce from one to the other.

There are many ways and reasons to create movement in a painting...

-Rhythm creates predictability and order in the composition.
-Rhythm is used to create order and thus serves as a way to create an organized movement of the eye. Either gentle, graceful, rambling quick, or a fluid and rambling movement, etc.
-Rhythm creates a mood or tempo in very similar ways to how we relate to the tempo of music. Think of the differences between dance movements - the slow and fluid waltz and the fast upbeat cha-cha.
-Rhythm and movement is used by the artist to direct the viewer or to point the way.





Without doubt color is the subsistence of the an artists work.Taking its example from other European modernists like Joan Miró, the Color Field movement encompasses several decades from the mid 20th century through the early 21st century. Color Field painting actually encompasses three separate but related generations of painters. Commonly used terms to describe the three separate but related groups are Abstract expressionism, Post-Painterly Abstraction, and Lyrical Abstraction. Some of the artists made works in all three eras, that relate to all of the three styles. Color Field pioneers such as Jackson Pollock, Mark Rothko, Clyfford Still, Barnett Newman, Adolph Gottlieb and Robert Motherwell are primarily thought of as Abstract Expressionists. Artists like Helen Frankenthaler, Sam Francis, Richard Diebenkorn, Jules Olitski, and Kenneth Noland were of a slightly younger generation or in the case of Morris Louis esthetically aligned with that generations point of view; that started out as Abstract Expressionists but quickly moved to Post-Painterly Abstraction. While younger artists like Frank Stella, Ronald Davis, Larry Zox, Larry Poons, Walter Darby Bannard, Ronnie Landfield, Dan Christensen, began with Post-Painterly Abstraction and eventually moved forward towards a new type of expressionism, referred to as Lyrical Abstraction. Many of the artists mentioned as well as many others have practiced all three modes at one phase of their careers or another. During the later phases of Color Field painting; as reflections of the zeitgeist of the late 1960s (in which everything began to hang loose) and the angst of the age (with all of the uncertainties of the time) merged with the gestalt of Post-Painterly Abstraction, producing Lyrical Abstraction which combined precision of the Color Field idiom with the malerische of the Abstract Expressionists. During the same period of the late 1960s early 1970s in Europe, Gerhard Richter, Anselm Kiefer[50] and several other painters also began producing works of intense expression, merging abstraction with images, incorporating landscape imagery and figuration that by the late 1970s was referred to as Neo-expressionism.


This evening I will begin another abstract piece. As I paint more abstracts I will add to this blog post and keep it updated.© 2011 Angela Pari Dominic Chumroo

December 4th, 2011
Introducing "belle "paon"

Time to go draw some writing inspiration from the Indian Ocean with a few glasses of Bordeaux. Can't swim right now with the sharks entering the shores and need to get some writing down anyways. Hoping to complete one of these two books I am writing soon so I can send it off to the publishing company. New year approaching and all new paintings beginning to be loaded.


September 4th, 2011
Amazing what one can conquer by touching something. I have developed a love for touching what I am painting. Many may say that touching a piece you are painting with your fingers is a big no no.

When I paint with my fingers I feel the magic of the piece come to life. I often feel my fingers are guiding my eyes to go into the right direction.

As I look through my portfolio of what I have accomplished this year my eyes is most attracted to the pieces that are more bold and beautiful.Those which I have painted by fingers happen to be the most bold and beautiful.

I love feeling the magic at my fingertips when I create a piece.





Inspired by Carla Carson to try charcoals I today created my first ever charcoal piece. Although I was nervous working with charcoals I managed to conquer the media well with the use of my fingers.

Here is the piece I created from charcoals:





Here are a few from Inspiring Artist: Carla Carson




To my dear friend Carla: "With delicate emotion you have way of bringing to life a season" © Angela Pari Dominic Chumroo






Thank you Carla for Inspiring me!!!
August 21st, 2011
Angela Pari Dominic Chumroo

"Soooo exciting!!!! I got this in an email today :) from my high school friend. So I decided it was time to restore the little crab :) LOL I did not even remember drawing this for her until she showed sent it to me today.

I drew this 19 years ago in my good friend Amy's yearbook at the end of our freshman year in high school. Today August 20,2011 Amy scanned it and sent me the file. In my next piece of art you will see where I digi painted it and restored it. This is the only yearbook that survived a house fire Amy had. What a treasure to have old high school art I drew that many years ago!" ~Angela Pari Dominic Chumroo~






"A year in the past is treasure box in itself but a piece of art from a yearbook in the past is a chunk of gold from that treasure box "©Angela Pari Dominic Chumroo




Jeffrey Campbell in response to Angela Pari Dominic Chumroo statement above

"How thoughtful of your friend to send it to you! We just had our 30th reunion last month - where have all those days gone?"

Please follow the link to visit Jeff's galleries:

http://fineartamerica.com/profiles/jeffreycampbell.html





Andee Photography in response to Art from Highschool

"My art from high school was lost in the move over 20 years ago! Sigh....I do have a few poster board drawings that my grandfather had hanging on his walls and when he past I was able to have them. That is all I have left. I wish my kid could have seen them. The yearbooks seem to have be lost as well! Sigh again! Although I do have 3 elementary yearbooks and the year I was in 1st grade out local team won the Super bowl and they had a photo of the team. In 2004 or 5 I had a chance to meet the Football Hall of Fame QB of that era and had him sign by his photo. He had never seen one before and so he took time to look at it. Very cool he took the time to look at it. Odd he never had seen one before that.

I had a couple portrait drawings that made it into an art magazine book for those two years or maybe one..anyway I can not find those either. Sad to loose the cool stuff!"~Andee Photography~

Please take the time to visit Andee's Art

fineartamerica.com/profiles/andee-photography.html





Roger Swezey

"The only class reunion my school had was the 35th year reunion, 23 years ago.

I recognized all the females, for they started out as fine young ladies and remained as fine young ladies.

With the guys, I didn't recognized any of them, for they started out as little boys and ended up as little old men.

Now, with high school artwork, the work I can readily get to, is my work in the year book.

This design was created for a poem about the beauty in decay....I saw paint peeling and felt it was perfect...The poem never made it but the background remained.

(by the way, the author of the top poem, Nina Castelli, is the daughter of Leo Castelli) "




"Here's other work I did for the yearbook...More in keeping of what they might expect...cartoons."





"By the way, the "Negative" was done by filling in with black ink...I thought that using a negative print was cheating." ~Roger Swezey~





Beth Akerman




"I have all my artwork from high school in my garage, and all the artwork of both my children too. This is one that I painted back my senior year of high school in the early 80s." ~Beth Akerman~





Warren Sarle

"I was a yearbook photographer for three years in high school, taking about half the photos. Those yearbooks are online. We did artsy-fartsy things like solarization and montages and fisheye photos. But I think my sports photos are better. So here's 2/3 of a solarized football photo (it was spread over two pages):" ~Warren Sarle~

To view the work of Warren please visit the following link:

http://ufdc.ufl.edu/UF00065812/00033/3j





Carla Carson




"This was my first drawing in art class my senior year of high school. I still remember the boy next to me saying wow, thats really good. I dont remember who the boy was as it was a loooooooooooooong time ago. I just remember being happy that he liked it & said so." ~Carla Carson~





Shasta Eone

"OMG --- 1954 .... The Glendale ... " Dynamiters " ! I was the one who did the cartoon character on tons of posters through high school along with all the prom posters, banners and theme decorations. But all my albums, year books, etc. were lost in a fire. The only thing left are the seven gold key awards won ( 1st place ) through four years of L.A. city wide school district competitions.

But this thread sure stirred up .... a whole LOT of delightful memories. Thanks for that."~Shasta Eone~

Shasta's galleries can be viewed here :

http://fineartamerica.com/profiles/shasta-eone.html




Roger Protsman


"High school stuff LOL Now this is cool and so very interesting :-)

For me the earliest stuff that I still have (no idea why I keep it around) is from 1967/8 from art classes in high school.
From an old (ok very old LOL) sketch pad they are not all on one page I just put em together for show n tell here :-)" ~Roger Protsman~










Betsy Jones

"The only image I could find that was already photographed... my parents saved EVERYTHING... and are still displaying a good bit of my work from High School, lol... This would have been from 1998, my Junior year in HS. Was just a doodle I did during a lecture in my Latin IV class HAHA"~Betsy Jones~








Marlene Burns

"nothing from high school left..including the newspa;ers from kennedy's assassination and the last year of life magazine the first time it stopped.
my mom turned my bedroom into an upstairs den when i left for college....i came home to a lime green and turquoise striped room with lounge sofas and a disco ball for a light!
ack!"~Marlene Burns~

To visit some of Marlene's Art please follow this link:

http://fineartamerica.com/profiles/marlene-burns